Gastronomy & Culture
Welcome to Nyali, Mombasa
Nyali is a well-known area in Mombasa. Mostly wealthy people and politicians reside in here. Big maisonettes, bungalows and high-end hotels are found here. Both foreign and domestic tourists prefer to stay in Nyali because it is a quiet place and of the cool breeze since it is located along the ocean. Beside the road there is a variety of trees and attractive flowers. Security is very tight in Nyali because of the prominent people including top government officials who live there.
There are many beautiful hotels along the Indian ocean for example, Voyager Beach Resort.
Voyager Beach Resort is loved because of the experiences it offers, like a water sports centre, four bars, three specialized restaurants, three swimming pools and supervised kid's activities. There is a live band that performs traditional music several times a week and a disco. The rooms are very luxurious and they are strategically situated along the beach.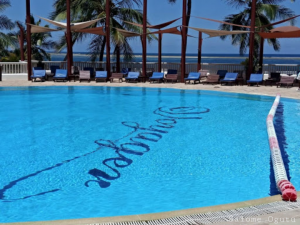 Mombasa Beach Hotel is located just beside Voyager Beach Resort. It is huge and attractive, especially with a beautifully designed interior.
The hotel is liked by both foreign and local tourists due to the awesome experience it provides as it overlooks the sands of Indian ocean. There are different places for one to rest and lots of fantastic experiences on the beach.
Naivas supermarket is within Nyali, along Nyali Links road, at Naivas Super Centre. In fact, the road is very clean and there are attractive plants along the road. Java House, banks, nightclubs, cafes, liquor stores, jewellery stores are also located in Naivas Super Centre.
Salome Ogutu